The Best Places to Give Birth in London

The Best Places to Give Birth in London
Thinking about where to give birth?
The best NHS and private hospitals to give birth in;
After sussing out whether you want to try for a home birth or check in to a hospital, choosing the right place to give birth, can also be a big decision. From choosing a hospital somewhere nearby to thinking about your comfort and relationship with the staff, there's a lot to consider when deciding where to give birth. Whether you're opting for a private ward or an NHS service, we've compiled a list of some of the best hospitals to give birth in London.
Chelsea and Westminster Hospital
On the NHS labour wards, you can opt for midwife or Consultant-led care or you can choose a home birth. There are also two post-natal wards to recover in. The facilities include a birthing pool, which is shared between two birthing rooms. Chelsea and Westminster Hospital recently opened a new choice of birthing options, with its bespoke midwife-led birth centre. This state of the art unit has been designed to make mothers feel as relaxed as possible during their pregnancy journey, having all their ante-natal and post-natal appointments in the same place.
The best bit: It's the only NHS hospital to offer Doulas to give advice and support before and during labour in The Nest – a special room for couples. They also have a clinic for talking through your birth experience a few weeks after your baby arrives.
Imperial College: Queen Charlotte's & Chelsea Hospital or St Mary's Hospital
You have a choice of Queen Charlotte's & Chelsea Hospital or St Mary's Hospital and you can choose to have your baby at home, a birth centre or in hospital. They offer a full range of services from midwifery-led to high-risk care. Queen Charlotte's is renowned for foetal medicine and boasts one of the largest neonatal intensive care units in the country. The labour ward has two theatres.
The best bit: The private Lindo Wing, The Duchess of Cambridge's preferred choice, offers en-suite or deluxe rooms room, full hotel facilities, breastfeeding, changing and bathing advice.
The Portland Hospital
The Portland Hospital delivers over 1,600 babies a year and has a team of experienced midwives and Consultant Obstetricians, many of whom hold senior positions at London's top NHS hospitals. Facilities include 24-hour anaesthesia, three theatres, Neonatal Intensive Care and Special Care Baby Unit plus a range of ante- and post-natal classes.
The best bit: A range of private en-suite rooms and four exclusive suites, with the option for your partner to stay overnight. There's also a full hotel service including 24-hour room service.
The-Portland
The Portland Hospital offers 24-hour room service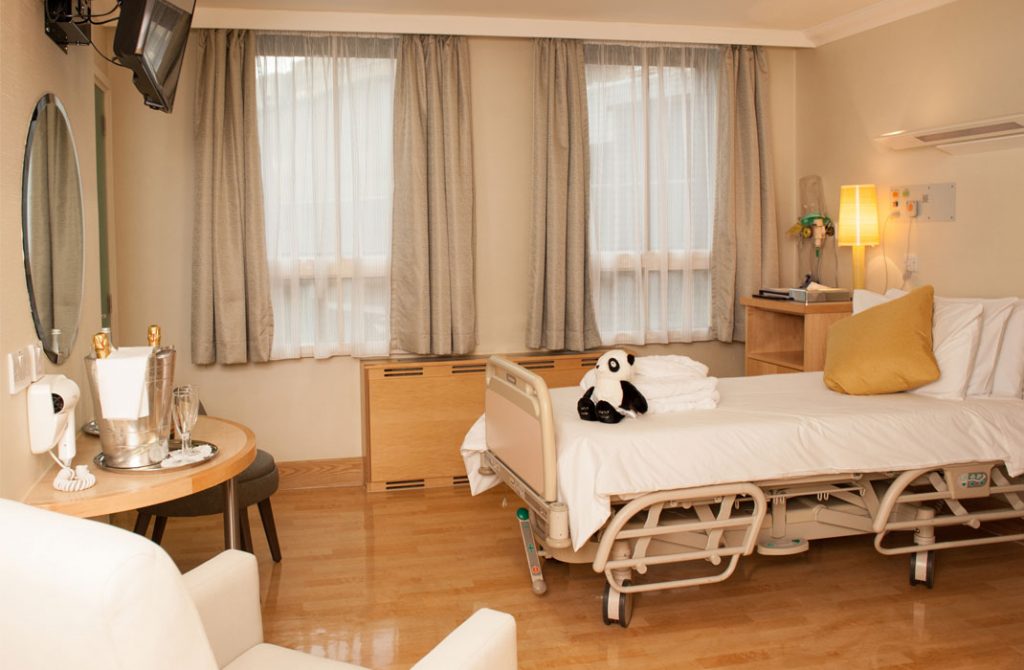 St. Thomas' Hospital
According to the Care Quality Commission, St Thomas' offers some of the best maternity services in London and boasts state-of-the-art facilities. Home births are available, as are ward-based births. A full team of maternity staff includes Consultants plus specialist and Consultant midwives. The birth centre has 13 single, en-suite labour and birth rooms and two dedicated obstetric theatres.
The best bit: The home-from-home birth centre, which has nine rooms suitable for low-risk pregnancies. Led by midwives and with en-suite facilities, there's a bed-settee for your partner, a birthing ball, mats, stools and even ropes. There are two birthing pools and a garden room to relax in during early labour.
UCLH: The Elizabeth Garrett Anderson Wing
Part of UCLH, it offers a range of options for normal births right through to problem pregnancies and babies who need special care. You can choose from a home birth with community care, or give birth in the midwife-led birth centre, or on the labour ward with a highly skilled team of midwives and obstetricians. It has two theatres.
The best bit: All rooms in the Birth Centre have en-suite facilities and are brightly designed with controlled lighting. They are also equipped with a birthing ball, mats and birthing stools.
Royal London Hospital
Offering the choice of several levels of care from midwifery to Consultant, the hospital has brand new labour wards. You can also choose to give birth in the birthing centre, plus there are ante-natal classes and courses for dads. There is great breastfeeding support, too.
The best bit: The hospital also offers a specialist team of obstetric physiotherapists who offer treatment for pregnancy-related problems such as back pain and carpal tunnel syndrome (pain and aching, numbness or weakness in the fingers).
King's College
With a full team of midwives and doctors, you can give birth in the Nightingale birthing centre with its birthing pools and bring along your own music to relax to. The Maternal Assessment Unit helps with problems during labour and there are dedicated theatres and recovery rooms. You can have a community care-led home birth too.
The best bit: There are 10 birthing rooms plus a four-bed unit that is used to care for high-risk women. Rooms have a bed, reclining chair, birthing ball and mat, bean bag, stereo and are en-suite. There are two movable, inflatable pools for waterbirths.

The Lindo Wing Maternity at St Mary's Hospital
The Lindo Wing at St Mary's has overseen private births for generations of families since 1937.
As a Lindo Wing's parent, you will receive private maternity care and advice from a consultant of your choice and our team of dedicated midwives. Working together with you, we will create a safe, personalised care plan that suits you and your baby, for every stage of your pregnancy and birth.
Being linked to a major NHS hospital and a specialist neonatal care unit means our team has the expertise and capacity to respond quickly to any complication, 24 hours a day, offering the best chance of the safe delivery of your baby.
Discretion is key to our service, and you will be ensured that you have space, security and privacy you need to enjoy your early moments as a family.
You will be able to spend your precious first hours or days in one of our modern private, en suite rooms, and all meals will be made to order on site by our team of talented chefs. You can even order a celebratory high tea with optional champagne to welcome your new arrival.
Lindo Wing also provides a secure, supervised nursery, so you can enjoy some rest whilst remaining confident that your baby is being well cared for.
If you and your family would like more space, Lindo Wing can provide upgraded room facilities, including deluxe rooms or suites, and Lindo Wing can put together a bespoke package for you if there is anything else you would like. Just speak to one of their team.
https://imperialprivatehealthcare.co.uk/lindo-maternity/

The Kensington Wing
As one of the top three private maternity units in London, Kensington Wing welcomes expectant parents locally, regionally, nationally and internationally to their dedicated private maternity care unit at Chelsea and Westminster Hospital. Kensington Wing's facilities are tailored to patients and their partners who are seeking excellent consultant-led or midwife-led care that comes with safety, comfort and privacy with hotel-style services during their stay.
They are first choice for many expectant parents who require discretion throughout their pregnancy journey.
They provide all services are all under one roof should you require additional clinical back up services, such as neonatal intensive care unit (NICU), special care baby unit (SCBU), high dependency unit (HDU), women's and children's services.
As a tight knit maternity team, Kensington Wing provides continuity of care throughout your pregnancy journey and after the baby arrives so you will be surrounded by familiar faces throughout and have the best chances of getting settled.
The Kensington Wing
WOMEN'S HEALTH CLINICS IN LONDON
WOMEN'S HEALTH DULWICH (DR.BERRIN TEZCAN)
Women's Health Dulwich, in West Dulwich, provides comprehensive support and reassurance in pregnancy and provides general gynaecology care with compassion and sensitivity.
Our facilities include a modern and friendly clinic in the heart of West Dulwich, South East London which provides a calm and relaxing environment, as well as state-of-the-art scanning equipment providing the latest in ultrasound technology including 3D and 4D ultrasound scans.
We do provide whole range of pathology and genetics service such as Harmony test (NIPT Test) at Women's Health Dulwich. We work with The Doctors Laboratory (TDL). TDL is a medically-led laboratory, established in 1987. It is the largest independent provider of clinical laboratory diagnostic services in the UK. TDL Genetics provide a comprehensive library of genetic tests, including the new Harmony Prenatal Test.
We specialise in the diagnosis and the treatment of gynaecological conditions such as menstruel problems, miscarriages, fibroids, infertility, contraception and menopause. We perform gynaecology scans with extensive counseling.
We also provide obstetrics care in South London. Our aim is to enable prospective mothers to have a positive and reassuring pregnancy experience. We are committed to promoting an environment of high quality, patient centered, safe care throughout the pregnancy. We aim to provide you, and your partner, a reassuring environment to discuss your needs, enabling you to be more confident during this emotional and important time. We provide pregnancy care of a type that is tailored to the needs of each woman. We perform pregnancy scans (baby scans) by the fetal medicine consultant with extensive counselling.
We provide up to date services such as noninvasive prenatal testing (Harmony Test- NIPT) for the diagnosis of Down's Syndrome. Having completed an MSc degree at UCL with distinction in Prenatal Genetics and Fetal Medicine. Miss Berrin Tezcan, consultant obstetrician and gynaecologist, will provide you a comprehensive counselling about the chromosomal abnormalities and genetic syndromes and will interpret the results of your blood test.
We provide our expert opinion and advice where necessary for our patients. There is no need for a referral letter from a GP or the NHS however if you wish us to contact your GP about your gynaecological condition and issues related to your pregnancy and scans, we can provide a comprehensive letter including your investigation results to your GP in order to improve the continuity of your care. We also provide second opinions often for clients in the NHS.
We fulfil the requirements of all regulatory bodies.
Dr Berrin Tezcan is the owner of the clinic.
Berrin completed her specialist training in London. She has been working in the NHS as a senior obstetrician and gynaecologist since 2005. She has over 15 years experience in the specialty. She completed her specialist training in Fetal Medicine at King's College Hospital. She then completed an MSc degree in Prenatal Genetics and Fetal Medicine at UCL (University College London) with distinction.
Berrin is one of the leading gynaecologists and obstetricians in London. She has excellent reputation and also she is known as one of Bupa's open referral consultants which means that her excellent management skills and excellent patient satisfaction results are recognised by Bupa; world's leading private health insurance company.
Berrin worked as a Consultant Obstetrician and Gynaecologist and Fetal Medicine Specialist at Chelsea and Westminster Hospital NHS Foundation Trust. She has been actively involved in the training and teaching of obstetricians and gynaecologists at all levels. Berrin has very well established private clinics both in Central London and in South London.
Berrin holds practicing privileges at the Portland Hospital. Berrin also runs regular private clinics at 212 Great Portland Street Clinic (the Portland Hospital Outpatient Clinic) and at Women's Health Dulwich. https://www.womenshealthdulwich.com/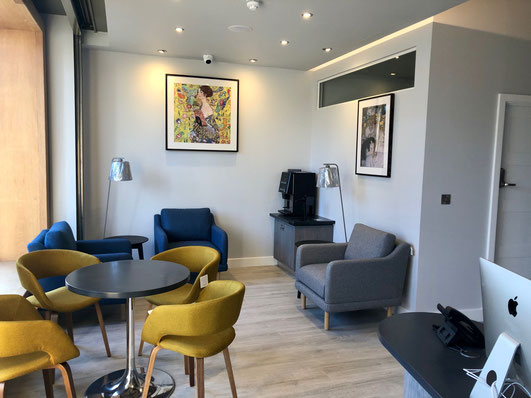 THE EVEWELL
Colin Davis
Medical Director and Co-Founder
Mr Colin Davis is a fertility and gynaecology consultant at The Evewell, with over 20 years of experience.
Colin graduated in 1990 and was appointed a consultant obstetrician and gynaecologist and Honorary Senior Lecturer for Gynaecology at St Bartholomew's and the Royal London Hospitals in 2001.
After completing his training at the Hammersmith Hospital, St Mary's hospital and University College Hospital he undertook a fellowship in USA in 2000, where he developed new minimally invasive surgical techniques for gynaecology.
He has previously been the lead fertility clinician at St Bartholomew's Hospital, where he established a minimally invasive national training centre. He is also one of a few surgeons in the UK leading the way in new endoscopic techniques and has pioneered laparoscopic tubal microsurgery and laparoscopic surgery for endometriosis and uterine fibroids.
Colin has a special interest in a number of complex gynaecological procedures including: laparoscopic myomectomy, laparoscopic hysterectomy, laser treatment to endometriosis and hysteroscopic surgery.
As a published author, he has written a number of papers and books on the topics of tubal surgery and endometriosis. Colin has an active research programme, where his work in assisted reproductive technologies has been instrumental in improving the likelihood of achieving pregnancy and fertility in many more couples. He has worked with The Evewell since October 2018.
Home

5 Things to Consider Paying for Before Giving Birth
Private room in an NHS hospital
If you had a long or tricky birth or had a caesarean, you may want more privacy and to be able to get the sleep you might miss in a noisy post-natal ward. Private rooms are usually only available if they are not needed for an emergency case, so they can't be booked. And if you did have a difficult birth, the nurses may want you near their station anyway. The cost is determined by the hospital and varies quite a bit, in the region of £50-150 per night. Be aware that if an emergency comes in, you may get moved out.
Private birth
A private maternity hospital or wing is almost like being in a hotel, except that you have your baby there, too. You usually choose a package of care and, should you have a problem-free pregnancy with a natural delivery, you'd be paying about £5,500-£8,000. A planned Caesarean would be more, as would any emergency procedures for you or your baby. You get great food though, and the chance for your partner to be with you during and after the birth.
Hypnobirthing
One of the most popular trends in labour, hynobirthing offers mums a range of self hypnosis, relaxation and breathing techniques for a better birth. It is lauded as being the alternative to pain relief and may work well for some women, though not all. Prices vary depending on whether you attend private one-to-one classes with a practitioner or as part of a group but expect to pay between £250 and £400.
Private after-care
You can go to one of these facilities to recover after having your bab. The hotel-like facilities are enhanced with help and care from experts on breastfeeding, nutrition and baby care from £300.
Doula or Night Nanny
If you've had a difficult labour or have older children, a Night Nanny can help you get back to normal. They support you with their hands- on experience of babies and mothers and have an extensive knowledge of sleep patterns, the baby's and mother's health and sleep safety. In the first weeks you may feel vulnerable and a good Night Nanny offers gentle guidance without dictating to you. Around £100-200 per night.
source: https://www.baby-magazine.co.uk/birth-in-london/